The municipality of Montefrío treasures abundant remnants of the past which are worth knowing and visiting. Among them, these stand out:
Archaeological Site Las Peñas de los Gitanos
BIC (Cultural Interest Asset)

Las Peñas de los Gitanos is a natural, archaeological site registered as BIC (Cultural Interest Asset) in the sub-category of Archaeological Zone since 1996. It is located about 5 kilometers from Montefrío.
The excellent natural environment and defensive conditions contributed to a long occupation of the area. This place has stayed almost untouched by modifications related to human activity and, for this reason, native vegetation has been preserved.
The chronological stage is represented by:
Caves or shelters: There are five caves in which levels of prehistoric habitation have been documented. Based on the findings of stone and bone materials, the settlement would date back to the late Neolithic period.
Megalithic necropolis: These are burial chamber structures, some of them with a corridor, that were built early in the Copper Age.
Los Castillejos town: It is located on the highest terrace at the western end of the rocky outcrop of Las Peñas de los Gitanos. Several excavation campaigns show an evolution of the settlement itself from the Neolithic period to the Ibero-Roman era. The area was modified and adapted according to the different social and cultural contexts throughout time.
Visigoth necropolis: It is located on the western slope of Cerro del Castellón. A series of rectangular-shaped burial structures, made with flat slabs, appeared in the excavated area.
Castellón town: It is located at the top of the hill of the same name. Remains of dwelling, streets and various sections of defensive wall have been found. The occupation of this zone is thought to have begun in late Roman times.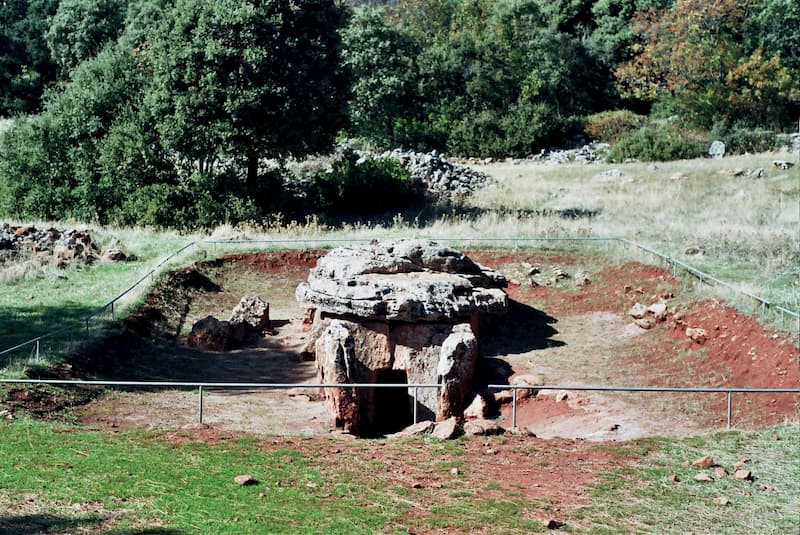 The megalithic necropolis of Las Peñas de los Gitanos is on private land. There is a company "Las Peñas de los Gitanos, s.l." that offers guided visits and is also in charge of the conservation and maintenance of this place. Use the link to visit
www.laspeñasdelosgitanos.es
Tel. 628 305 337
Prehistoric town of Los Castillejos
The area of the walls and the Ibero-Roman town (the ancient Hippo-Nova)
The Visigothic necropolis of Castellón
The early medieval town of Castellón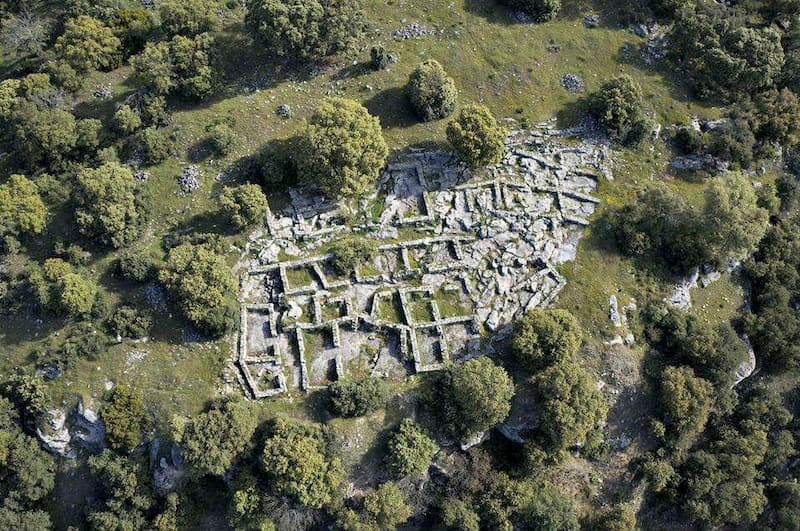 The Nasrid defensive system of Montefrío, which was part of the known as the Last Frontier of Al-Andalus, was made up of a series of castles connected through watchtowers that were located at high and steep points. This system protected the fortresses and the border. Its mission was to control the possible movements of the enemy troops and give alert in case of danger.
Many of these towers are still preserved (Torre de los Anillos, Torre del Cortijuelo, Torre de los Guzmanes, Torre del Sol, Torre del Espinar, Torre de las Cabrerizas). Currently there are two hiking trails that allow access to some of these towers.
Watchtowers
Torre del Cortijuelo

1.5 km from Montefrío, on the Cerro del Cortijuelo.
UTM coordinates: 411.488N – 4.131.930E
915 m above sea level, cylindrical shape and in a good state of conservation. It has a circular floor plan of 5 m in diameter and keeps 5.75 m in height.

Torre de los Anillos

2 km from Montefrío, it is located in the Alto de los molinos, in the area of La Cruz Altera.
UTM coordinates: 412.442N – 4.131.303E
995 m above sea level. It is frustoconical in shape, in poor conservation state, 6 m in diameter and 3.5 m high.

Torre de Los Guzmanes

4 km from Montefrío, close to the road to Tocón.
UTM coordinates: 412.884N – 4.129.697E
1,052 m above sea level. Cylindrical shape, with a 6 m diameter and a height of 4.80 m. It is in poor condition

Torre de las Cabrerizas

2.7 km north of Montefrío, over the ravine of Las Cabrerizas, near the Cortijo del Hoyón.
UTM coordinates: 410.343N – 4.134.465E
At 948 m above sea level. Cylindrical in shape, it keeps a height of 1 m and a floor plan of 5 m in diameter. It is in poor condition.

Torre del Espinar

It is located on the hill of El Espinar or La Piletilla, near the old road from Alcalá la Real to Loja
UTM coordinates: 411.970N – 4.134.530E
1,170 m above sea level. Cylindrical shape, with a circular floor plan of 4.60 m in diameter and keeps a height of approximately 2 m. In poor state of conservation.

Torre del Sol

4 km from Montefrío, towards Algarinejo, in the area known as Cortijo de la Torre del Sol.
UTM coordinates: 405.152N – 4.132.171E
913 m above sea level. Cylindrical shape, with 4.90 m in diameter and a height of 1.5 m. It is in poor condition